Howdy all,
Found my way over from GON so I'm really please to see some familiar... avatars!? I've changed mine as I wanted my first post to be about something I'm enthused about (apart from gaming), craft beer! I thought it might be cool for those of us that like the finer things(beers) in life to post here and report on any good quality finds; beers or breweries.
It'd be great to get some regular posts as I'm always on the lookout for new and interesting beers! Of course not all beers suit all people so I thought it might be a good idea to post what sort of beers you like and then either recommend or specify what type of beers you are posting or prefer. Feel free to ask for recommendations as well if you're a bit nervous about dropping $15 on a bottle you've never had before!
-:
Schikitar
:-
Beer Preferences:
Dark Ale, Stout, IPA, IIPA
Beer Motto:
The hoppier, the better!
Current Favourite:
Double IPA (aka IIPA) by Pirate Life (SA) *Edited, not from NZ as originally written
Favourite Breweries:
Van Diemen, Seven Sheds, Moo Brew, Kick Snare, Pirate Life, 3 Ravens, Stone & Wood, EPIC, Kaiju Beer (South East Brewing)
Local Breweries (Tasmania):
Van Diemen, Seven Sheds, Moo Brew, Kick Snare
Favourite Craft Beer Bar:
St John, Launceston (TAS)
Untappd Handle:
Schikitar
Let's start with our own introduction to craft beer. My story is fairly short. I know a lot of people have jumped on the CB wagon out of trend but my introduction started with a few local samplings of some Tasmanian breweries (those listed above) over the years after becoming really bored with the same, plain, boring beers. Then a couple years ago the first dedicated craft beer bar opened in my local town. I visited this bar on my birthday shortly after and I had a beer that changed everything; the Kaiju Behemoth, a black double IPA at 10.8% ABV from a New Zealand (South East Brewing -
http://www.kaijubeer.com.au
).
It looks a little like this...(not my pic)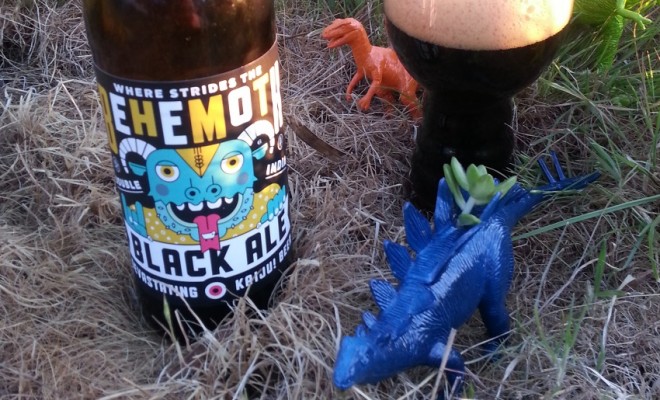 The description (which I can't argue with);
The enormous hop schedule of this beer is balanced by a rich, roast malt character with rummy undertones. The oiliness of the hops coats the mouth with a huge lingering bitterness while the malts add coffee notes.
The flavour of this beer knocked my head off, it was the most intense and flavoursome beer I had ever had (still holding that title I think) and it sparked my interest in enjoying exceptional quality beers that pack as much flavour as possible into a glass. So rather than drinking half a carton of watered down crap like most people, I now love just having 2 or 3 beers and sipping at them ...enjoying every mouthful.
A beer snob was born (to compliment my snobbery for coffee, pork belly, chocolate and bourbon)!
What's your story?